.
It is the democratic Party that makes a mockery of democracy! This election was not a vote at all -- it is a bludgeoning of the democracy and of the American people by your own appointed elected officials and the news media! As a matter of fact, one news reporter of the 1st or 2nd decade of the 20th century, I forgot the quote and who said it, but he said in a private conversation that news reporters were not allowed anymore to print news, just the approved propaganda.
I believe the democratic party could not make it on its own, so it has to resort to schemes and tactics; and this in cooperation with the republicans in order to be able to continue the (phony) tension between republicans and democrats.
Hundreds of millions of people take time out of their busy days to vote, only to find out that their honest political vote was undermined by some clever scheme. You, as honest citizens, cannot win politically because in politics everything is rigged -- there is but one party (the republocrats) and this party, split in two infighting parties makes them split the nation in two. A divided nation cannot stand; and that is the reason that we are now enslaved with almost no hope at all of regaining our liberty. A nation of cowards are slaves! You idiots continue to miss the real issue -- the liberty of our offspring. Listen to me; vote libertarian, stick together against the vilest regime that has ever existed on earth, the American democratic system, and together we can defeat this set of bastards. Maybe, just maybe trump was forced not to take black female running mate(?).
We are a nation of people, not a set of races and sexes that must secure a set of advantages over the rest of the people. We are looking here at another form of treason -- a betrayal of the supposed good of the process of democracy we seek to honor! As democracy is practiced here it does not work in America. I have just proved it! And all Americans have made a mockery of the constitution. The people utterly ignored the meaning of the amendments thus the changes were never opposed by the people. I just feel so alone in a nation full of idiots! This, also, is a message to the entire world.
This nation of people-dividing parties should be abolished. We are free and undivided in our determination to keep the peace and unity that liberty guarantees. Qualified people must be chosen to run the states and the federal government. Standards of qualifications must be set; and our leaders will be chosen from those who apply for it and in two or three consecutive elections the right officials will be chosen. they will report of their activities regularly to the people and every five years a poll will be taken; if 60% of the polled people accept the official by his performance he/she will be kept in office for another five years wh3en another poll will be taken. We must always refer our liberty and insure that the modified constitution as proposed herein will be kept obeyed by the officials. But first we need a revolution and a dictator of good will to set the constitution and the government on an independent track without political parties. we have clearly seen that that route will lead to guerilla war to gain control between the parties. Keep in mind that god and liberty come before friendship. Those who deny god should deny sex as well because sex is one of the indicators that god exist and created this universe from nothing but the programmed dreams of comatose souls residing in paradise! For more information on this read this site through and buy my books offered within.
Do not forget to copy my website asap!

Freedom of Speech means freedom of expression. It is a still-constitutional valid right that cannot be taken away by any law or decree from we, the people. In international shipping trade there is a large code book that assigns a signal flag or combination of flags for a huge number of standard messages that is available in all languages. It was a clear means to express one's thoughts to people speaking other languages. The upside down flag also has a clear meaning as a signal flag, in that the one flying the flag means to convey that the people in the nation are under severe duress of which the average man is not yet aware. When I use the flag upside down it fails to be the American flag (just as flying a signal flag upside down it fails to be a signal flag) and it has become a mere code flag which meaning is clear to most; and it is thus clearly not the American flag. The American flag is flown right side up. It is only then that it is the flag of the president (slaves have no flag). When flown upside down it is merely a means to free speech; and others seeing it know at once what it means and can get more clarification through other means of expression shown simultaneously. This right cannot be suppressed by law or edict. If there is such a law or decree in the nation it only proves that our guaranteed right to free expression has also, been abrogated -- and thus, the entire constitution would be made utterly null and void! Then government could do whatever it wants and thus we would be truly slaves and the American dream would be dead as hell. Freedom of speech is part of the common law on which our legal system is based. However our constitution IS, already null and void by means of the 14th and 16th amendments.
It is now very clear that the three departments of all our governments are also abrogated, because the judiciary is solidly in cahoots with the executive and legislative departments, leaving we, the people stranded in no man's land. At this time in America, government abrogated itself by stepping beyond the reach expressed in the original constitution, which is the only valid constitution in our country. It is only through the media-instigated ignorance of we, the people that we exist in an utter chaos of falsehoods in law, procedure and execution. Governments of America and all traditional news media have proven to be callous, deceiving reprobates. operation and is a foregone fact that our new-media have always betrayed us into fooling the public with the idea that we are free!
You know, it is not necessarily what they reporting, but the very important known facts to them and of the most important facts to the general public that they kept hidden from us. They know that the 14th amendment, the 16th and other treasonous amendments are bogus and that we do not have to be forced to be drafted into the armed forces and that we do not owe an income tax to any government. They know about the seditious One World Order conspiracy for many decades and never reported one iota of this hidden treason to the public. The news media should have objected and should have screamed out their objection to these abominations for decades on end and should not have stopped objecting until we had retrieved our liberty. It should still be screamed out in all the media so that people know where they stand in regard to their governments. They, together with our governments, are our worst enemies; next to these come the folks who actually, subscribe, watch and read these uttering of our enemies. All soldiers killed, maimed and otherwise injured since, and including the civil war, died in support of our secret enemies and never for the wholesome good of the American people. Your "voluntary income tax over the years have caused hundreds of millions of death in the world on wars that did not essentially affect the people of America in principle. The wars, as I told you so often, were because of an international conspiracy to create an utterly unnecessary One World Order. I tell you this so often because I am extremely indignant of how our government treats us and the people of the world.
Vote libertarian! They want us to regain our liberty!
Check out A NEW IRS-FREE GOVERNMENTS FUNDING SYSTEM
What sets our nation, originally, apart from other nations is that our Constitution tried to guarantee us liberty ‒ utter independence from being under the jurisdiction of government. That is why Americans have ever been able to say that they have liberty in America, but government, through the unlawful proposing of the 1st sentence of the 14th amendment, assumes (wrongly) that it has jurisdiction over the free people. The state and federal governments treacherously misused, for a century and a half, their privilege to deal with our, the people's, constitution. If the constitution is not owned by we, the people, it is definitely not a constitution at all. At present this thing called constitution is owned by US government! We are living in an enemy-occupied territory. Constitution and liberty are synonymous in meaning!
HELP MAKE AMERICA TRULY GREAT AGAIN -- NOT PHONY TRUMP'S WAY
Voting for Trump or Biden or for democrats or for republicans is like voting for Satan for expediency reasons rather than for god; or like voting for severe slavery rather than for freedom and liberty for us and our posterity. It is like loving your children and your offspring but voting for a present expedient reason that will hurt everybody you love; or loving your spouse and children very, very much but yet going to bed with someone else on the spur of the moment-- it is cowardice and betrayal as vicious as it comes. Be true to your honest understanding and do not waver from it! Expediency is always your first and worst choice. It is the way your enemy plans and wants you to go. Know that a divided country cannot stand. If you show cowardice the super-crooks (republocrats) will always own it at the cost of the unborn! Expediency is the route to everlasting hell, horrors and destruction! These two have been told to divide the nation 50/50 with hatred between the two divides; they are very successful and are treasoners! Behind the scene these two parties stand solidly together as one, so whatever they have secretly in mind will happen because of the expedient factor at work between the opposing voters, rather than unite behind the libertarian banner! The American people have done a hideous job of insuring their liberty. If people are satisfied with the range of slavery they suffer now it will definitely get worse. and worse. Read the Declaration Of Independence. We suffer slavery now, this declaration is way beyond the slavery the people suffered under king George. What are you all waiting for? Your posterity will not be able to free themselves ever again if you do not help establish liberty now! If we hang together government cannot do anything else but give us our liberty back! MAKE AMERICA GREAT AGAIN! -- WHAT THE HELL DOES TRUMP AND THE REPUBLICANSACTUALLY MEAN BY THAT! -- A NATION OF SLAVES?!
November 5, 2020: see what you all have done. You voted in the enemy of the people. Whatever you hear on TV is 99% lies. If you-all had voted for the libertarian party you would have 99% chance of getting our liberty and the constitution back and then you could have still been able to get either free enterprise or socialism -- but nothing of these are worth dirt of you not first have secured your liberty and retaken your constitution!!!
Folks, voting is a reasonable way to decide things in a small community. But voting in a nation of 200,000,000 adults is the most asinine idea to arrive at a sensible means of obtaining a government. Voting is encouraged only by the most ruthless members or parties in a society to enslave the people forever. Now; voting / fighting to get our liberty back -- now that is the only manner of getting back a lost liberty and keep it safe! So, presently and in the foreseeable future, help to secure our liberty and our constitution
Voting – not just an emotional act but one of the country's most important statements of truth of oneself.

Voting set up in the American democracy is a total ridiculous process, especially in the state and county voting procedures. I voted once in my life and I was utterly baffled by all the people on the ballot of which I had never heard before -- and even if I had heard of them, I really had no idea of their competence, ethics, courteously, etc. I just filled out at random. It was a horrible thing to do. I know that tens of millions of people must have the same problems as I had. I believe that judges, sheriffs and other prominent offices in the city, county and state are important, but to allow the general public to vote on them is utterly ridiculous. You will not get a competent set of officials in place by the general constituency to cast their ballot that way, ever!
It is better to select a set, say 20,000 persons per state, of people who are appointed for one or more of their competencies in those areas and critically vetted by government to suit them for their roles by means of a questionnaire if they are willing and suited for the voting information gathering and the voting -- such as willingness, time-availability, interest in the voting process, etc.
Each of the appointed experts meet with the candidates, visit their work areas and talk to the candidates co-workers, write their reports that are given to all. These appointed specialists voters read and discuss the issues and find areas that need further investigation and the results are again written up in reports and again summaries of each of the candidates are written and distributed to the rest of the special voters then a meeting with those who have questions arranged and the questions are raised and discussed; a new report written and distributed to the rest of the special voters.
Their duty is to focus on the particular political issues at hand, diligently understand the qualifications, needs and issues of the people and issues on the ballot and swear the be ready to make non-emotional recommendations in the areas of their competency, giving in advance of voting their sincerity and understanding of the people and issues at hand in a certified statement, and then cast his votes for the particular items assigned to him/her on the ballot. On national issues it must be stressed on the ballot for the general public that the vote is not based on emotionality but on the person's understanding of the importance on which he is voting. Emotionality in the voting process is like undermining the purpose of the democracy!
Therefore whether a black person, a Chinese person or a Mexican person is on the ballot is unimportant. The democracy works in the principles of understanding of the issues -- and or whether one wants the platform of one candidate over the other. Randomness of emotions ought to be clearly shunned by the person voting; and if he/she throws that principal in the wind the person ought to know that he/she committed a crime against the fellow people around him/her.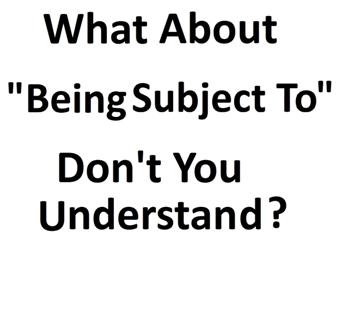 Support THE LIBERTARIAN PARTY (YOU KNUCKLEHEADS)
Unite under the banner of the original constitution and the Libertarian Party


Understand that the Republican Party and the Democratic Party are one and the same and its combine is our most intractable vicious enemy; voting for either one is your betrayal of America itself and shows all you stand for at once!

How is it possible that we all started as free people in this nation while one hundred fifty years ago everybody was on the block of slavery in America, the Land of the (supposedly) Free?

The answer lies in that time progresses seemingly without change in our experience, but government secretly did add a change in the founding documents at a point in history like, in a sneaky way, a statement was included into the constitution through an amendment that proclaims liberty for slaves but in the 1st sentence includes a false general statement to the opposite of the general public after a severe civil war that everybody wanted to be rid off.

Liberty continues to be proclaimed by government and people. The people believe it because nothing in their daily lives happened to the contrary. Then, years later, and addressed to another generation, another amendment, introducing a forced income tax is added but the change does not take place for another 35 years or so and addressed to another generation who still believes to be free. Then a (politically planned) war occurs through Pearl Harbor being bombed by an ( supposedly unsuspected) enemy that throws us immediately into war and the people all agree that a voluntary tax ought to be paid to to strengthen the armed forces in manpower and equipment, that would last only two years. However, when the war is won the tax is simply continued to be forced from us through an amendment everybody already forgot existed but when this other generation finds out it believes all to be part of liberty. In this way later generations believe to still be free but do not recognize that the still high (idiotically called) voluntary taxes are a form of slavery and utterly unnecessary to maintain our freedom or any other government program.

Over

time different generations

are

made to believe that slavery is a form of freedom; and when that change has occurred in the minds of children, the illusion is set in concrete. We have been very cleverly made to believe, over a long time span and educational tradition, in the falsehood that slavery must be attached to our status of freedom for freedom to continue in the future. It is an insidious conspiracy inside our government that is kept alive from one generation to another and, again, to another proving that a vicious conspiracy exists between the major political parties to act like two but essentially being one party (the republocrats) that is arraigned against the once free people. Voila! The two major political parties arguing over issues that will never come to pass and the people dividing themselves in warring groups as if real political changes are the result in allowing one party to be elected over the other, but in result we, the people, are being

treated as slaves and

sucked out through taxes that do not help the country but only help the goals of their (government) agenda to be reached -- a One World Order. It is a conspiracy of which we are being kept in the dark until the OWO goals have been fully reached and, supposedly, nothing can be done to rectify the falsehoods.

So, now-a days, the great majority of people believe this dichotomy of freedom and slavery to have been combined into a fiction American people call liberty and those stating otherwise, like me, are considered incurable fools. The thing is that people have come to a state where the obvious lie is considered the truth and nobody realizes that we all live in a fiction of belief which we all believe to be based on facts. Keep this statement in mind because I will show you, further herein, that physical reality is also based on a falsehood that is enforced on all souls to make

us all

believe that a non-existing reality, our very own physical reality, is real which, in truth, does not exist anywhere but in our collective minds; even as in the catholic religion, controlled by the papacy, is based on 95% fiction and not on the gospels revealed in the new testament bible. Mass-enforced belief creates fiction that is accepted as truth because of a fact that in mass-belief we actually enforce the error of belief through conditioning / brainwashing on each other on a super-mass scale.

This fiction was induced on us spiritually in paradise by Adam and Woman believing that the true god is a liar and the liar to be the truth-sayer; and such spiritual mass deception creates our mass-accepted false reality of the universe. We

all

, as spiritual beings deceive each other that physical reality actually exists.

The Power of the Catholic Church in the United Nations

The Vatican is a nation with diplomatic representation in all countries. It has representatives in the UN and all basically Catholic nations have also, for the greater majority, Catholic representatives in the UN. We know that for Catholics whatever the Pope says is law. So the Pope has enormous clout in an otherwise more or less properly represented set of countries in the world. The Vatican is a religious institution, -- not a nation; that is how the UN is already perverted in a secularly and religiously diversified world. The United Nations is another set-up to destroy liberty and freedom of religion in the world. It must be overturned as a nation.

Democracy in national and international politics has resolved itself in the struggle of power-groups that deceive its voters to accomplish goals that have nothing to do with what the people really need: liberty from government and clerical interference in their personal lives. In fact, Catholic political parties in many countries already have crippled the democratic process in many countries; an example is in the Dutch democratic political system. America, in fact, is becoming more catholic by the day as the borders have been opened to the Latin Americans who by for are catholics, and their birthrate is much higher than the other religions combined.

I

f you vote in republicans or democrats you are supporting your 150 year old arch enemies

The republocrats are, and have been, heartless bastards! An old man tells you so!

I just read some of the Pope's Global Education Compact,

This is exactly what I have been writing about above. It is the twisting of children's mind on a global scale because by governments acting in compact / conspiracy to influence them all with the same beliefs that a new fictitious reality springs up that is utterly against anyone ever finding the truth in spirit, as I have herein related to you. This outrage of the pope must be resisted and fought as viciously as I tell you herein to resist our own viciously corrosive and corrupted government. Through globalized education and control of mind, freedom of religion and of thought are eradicated and we are to be made slaves in our minds to the dictates of mind-control dictators -- which the centrality of Catholicism in power of the papacy is already doing to catholic minds. Human minds are ever more deluded and sent farther away from the truth that I am informing you of. In earth time is one of the corrupter of all things of mind and thus of perceived reality; even though, adherence of a billion people to the edicts of a dictator of the mind, the pope, keeps them all in a false belief system and who uses time to further corrupt all their minds.

How the transformation from physical awareness to the spiritual awareness takes place

(when you see red writing, it is my wife editing my work. I am not a typist; I do not check my work often, so my wife feels she has to. We are planning to create an entirely new site so that all the code problems will disappear. this site was created in 2007

Something about the Sabbath day

The Sabbath is the seventh day in the creation according to Jehovah. I can believe the order of work days and the Sabbath in the way god relates it to us in Genesis 1. I believe in that sense the first day is Sunday because it is the day that the sun was created. Although some "howevers" come into play here. All people created were utterly unaware that Jehovah existed when Abraham got into a special relationship with God. At Abraham's time of life no one knew exactly on what name-day in the life of Abraham the first day was that god tells us about in genesis 1. It could have been Thursday or so; and as we all know the days of the Christian week are based on the Jewish day counting. However the names of the week days of the Catholic church were often based on pagan ritually assigned days. And these pagan holidays, originally, were to get the pagans converted. Boniface, one of the early evangelists, went to the German tribes and converted a pagan day they celebrated at the end of December converted that day to a Christmas holiday, just so he could help the people in Germany understand insight to the works and life of Jesus of Nazareth. The same is true for other evangelists who used pagan holidays like Easter with the Easter bunny and Halloween with the witches. So, who knows? I see really nothing wrong with that. It kept people from all over Europe and minor Asia the solidly in the belief of the living Christ and part of the church; and. really these holidays are fun for young and old, breaking up the monotony of daily life. Do not forget that church and other religious organizations are businesses, and even more so because they are ax-exempt.

In our present time, how can we be sure that the randomness of the weekdays we are accustomed to and accorded to us by the Catholic church are the god-proclaimed days of the week? God never specified the days of the week; he just told us in a stern manner that we must work six days and then rest on the seventh, no matter which schedule we might adhere to -- RIGHT! So, if you want to be religious (which I am not!), whatever day you decide is your rest day / Sabbath is OK with God as long as you adhere to that schedule faithfully, which is a very dangerous thing to do because of the uncertainty of this Sabbath day. Also, Jesus said that the Sabbath was made for man -- man was not made for the Sabbath (I would include beasts of burden that receive rest because men adhere to the Sabbath). I understand that God did not mean for us to be utterly helpless; the day was meant as a rest day so that the real toilers among us could take a well-deserved rest but were granted to do household chores rescue and things that are fun. So, you see that God / serpent is not all that stern and forbidding. He meant us to have a good life and to get us so brainwashed in this physical life with him as god so that we would entirely forget that spiritual life actually exist for us. It was his job to teach us the values of the tree of the knowledge of Good and Evil -- and let's face it, he is doing an extra-ordinary good job of it!

I am very happy that we all can be accorded at least one day off from the rat race. But my wife and I are way beyond such earthy matters; we know the truth and as Jesus said, the truth sets us free from all worldly understanding, consequences and responsibilities. We, helplessly, rest in the gods, whatever their names, duties and capacities. So, let them decide what is good for us. All we have to do is accept their rule over us - nothing more. The end result is life in spirit. The default way is to hell -- life on earth in all manner life -- from humans to animals and then into flora and minerals. believe that is the way down through hell. It takes eons to get stuck in black-hole plasma, and I do not know if there is rescue from that. The universe, for the umptiesth time, is spiritual, comatose existence, where we dream up the virtual universe -- and brainwash each other that the universe actually exist. Whatever we sense and experience is spiritual brainwashing!

Physical reality has nothing to attract us or to intimidate us. It is clear to me now that the temple / the tabernacle in the desert is a means for us, people, to get to know (in Jehovah's way) about good and evil. We were deliberately created to love evil and its advantages; and "god's Law" gives us the means to be good. But the goodness required is beyond sin-loving humans to adhere to. Christ Jesus is hinted on regularly in the Old Testament to point us toward redemption by means of his forgivingness to save us from perdition. The battle in our soul's mind to adhere to good, even with the redeeming quality of Jesus' blood sacrifice for us, is continually betrayed by our humans mind to follow riches and power rather than goodness and meekness in Christ Jesus. But even when we have understood what the tree of the knowledge of Good and evil has taught us, we are still not acceptable for return to spirit because we have not atoned for our betrayal of our Paradisiacal god, who happens to be the spirit in Christ Jesus. Without showing regret of having believed a lie in spirit and having fallen for the sales pitch of the serpent we remain barred from return to spirit. So do not die without also atoning in your soul for the treachery your soul committed in paradise. Remember, though, physical reality is a virtual reality, a reality where evil can be practiced without the peace in true spirit.

The republocrats trespassed and trampled on the most important founding document on which this nation was founded. They did so with scheming knowledge and execution to enslave all the people. The more popular a present and past president seems the more of a traitor he is and this all started with president Lincoln. He was one of the worst presidents to defend our liberties. We are dealing here with the grossest theft a conspiracy of elected officials can do to a whole nation of people. The verdict can only be death to those who originally committed the atrocious deed and those who followed in their steps as co- conspirators by framing and ratifying the 14th and 16th amendment and ultimately enforcing the scam on the people by forced income tax; that includes all elected and/or appointed senators, presidents, political party managements, and the enforcers (all management employees and auditors of the individual income tax division of the IRS and their boss, the Federal Reserve System) since the proposal of the 14th amendment. Believe you me, the same is true for Trump and this Biden that is presently president.

How can we ever again trust the democratic government system?! For proof continue to read the contents of this website. Whoever sees evidence of my signs and my website and does nothing is guilty with them. For now, please do not vote for republicans and democrats who have betrayed us seriously for 150 years. Do not associate yourself with people who still themselves to be republicans or democrats; they are your real enemies. They are the dull ones who cannot see what is really important to us and our posterity.

The thing is that in school they start brainwashing you to take sides; this team versus that sports team -- this issue versus that. Then the polarization begins; and when you are over 18, you can vote and you are all ready to take sides politically. That is where republican versus democrats comes in. They are really one party, but put up such a show with each other that it seems they are ready to kill each other politically. Behind the scene it is only one party; and what is important to them is that you utterly forget that you have been criminally enslaved through two entirely bogus amendments to the constitution. The Libertarians are more honest in that they have no political sparring partner to polarize the attention on them from the media and so their issues are never addressed; but their issue is liberty itself. The news media are our real enemies because they want us to be slaves; because they are one with the One World Order conspiracy. Folks, listen to me; you are being duped, conditioned and made brain-dead politically. The republocrats are your arch-enemies -- shun them like the plague! They make trillions of dollars with the phony 16th amendment federal income tax which they use to further the illegal, One World Order conspiracy. Don't let them fool you anymore. Please folks convert people to shun the republocrats and vote the libertarian ticket completely.

For you Christians out there, we, the people, are the governing authorities. The original constitution was framed and written by a Christian people who, by god's good graces wanted you to be free and unburdened from suppressive governments. We are dealing here with a run-away set of elected officials (criminal traitors) who have deceived and betrayed the people. So, Romans 13 does not apply like it does in other countries. Your righteous god would hold it against you to allow them to stay in office and for the constitution to remain corrupted through the 14th amendment.

Doing your best is a process that goes on until your last breath. That is what I am doing in my books and in this website! Hopefully, with God's consent, I say the US government in the Nation of the District of Columbia and the inhabitants of the Vatican Nation (the two smallest, richest, most powerful, ruthless and dangerous and the most ungodly, chameleons of horror nations on earth) are the world's people's worst enemies. Come out of the your stupor, wake up and separate yourself from them from what they are now! The Papal power over you confines your religious and spiritual expression into the of very narrow confines of unchristian, strictly enforced doctrines leaving you without true personal communion in the spirit of Christ Jesus. The Vatican is a solidly secular power with a tax-free, profitable facade of pretended Christian religiousness.

Join the "Seventh Day Adventist Christian" or other personal, inspirational Christian protestant Church and, of course, vote libertarian!

After the Japanese Navy destroyed Pearl Harbor and on its way home the Admiral in chief of the Japanese Navy spoke to his officers that "Today we have awakened a sleeping giant" He knew that Japan could not win from the United States. Today the same is happening in America. I, Hans van Krieken, under God's direction, am awakening a sleeping giant also, but this time I awaken the enslaved sleeping masses of people of America and call them to repentance to god and nation! I know that we and our goals will prevail!

Again!

This is how the first sentence of the 14th amendment reads: "All persons born or naturalized in the United States and subject to the Jurisdiction thereof . . ." This highlighted section is an utterly criminally false, statement.

It should read: "All people, who were part of and included in this original Constitution agreement, their descendents and those naturalized in the United States are unburdened and free United States citizens . . ."

Free people cannot be told what to do in public territory, but slaves can be made to do whatever the master says or dictates, even in one's home, or be punished.

Flags and vanes belong to the regimental commander, generals and kings and presidents and governors over a subject people. People serving under these flags or vanes are slaves that must do what the owners of the flags say or be charged with insubordination. Before the 14th amendment, the flag belonged to the people. Now we are only slaves of governments and presidents of incorporated institutions as employees. Before the 14th amendment the elected officials were subject to us. The tables have been turned by the elected officials. They simply cannot do that. Masters do not allow backtalk, that is why citizens cannot win a case against government.

The American tri-color has ceased to stand for freedom a long time ago; it now stands for forced subjection and the one in command of it presently as of September 28, 2020 is your president Trump -- the slave driver!

To begin with a federalist is a person or state who agrees with the original intent of the constitution, a formula of how to incorporate a federation. We all agree with that but with a United Nations in operation I now support the idea of disintegrating the United States to become 50 individual sovereign nations with membership in the United Nations as is done in the European Trade Union. As a trade union of states it would give us as Americans much more power and influence in the UN.

Without George Washington we would not have union or a nation to be in. He forewent being a king because that would have made us his subjects, so he declined and allowed to be chosen as our 1st president with liberty for all.

Many Korean and Vietnam war veterans were forced to fight as slaves and got shot up or killed because of the phony 14th amendment. We had a federalist constitution but this 14th phony amendment took the constitution from we, the people, and transferred ownership of the constitution to federal government and at the same time made the United States a huge slave camp. It also means that every state senator, every federal senator and the president since 1901 are guilty of keeping a slave camp in business and are thus legitimate criminals and should be condemned. Remember that the duration of the ratification process of the 14th amendment was 35 years long. The process could have been kept alive for 200 years before the necessary states would allow it to be ratified. It is a huge vicious, highly illegal scheme that must now be corrected or it will be considered permanent by all state, federal and United nations governments. The ERA proposal for women's liberty had a time limit on it for approval; so why did the 14th amendment have no time limit at all. Women go out and sue the federal government and the state governments for injustice and for denying women equal rights for not adopting an amendment and for reasons that cannot be forgiven. Help me get the 14th amendment stricken so that a better one can be arrived at.

Anyway, during this process both the incumbent parties (the republican and the democrat parties )at their times kept the the 14th amendment proposal alive for a highly unacceptable time. The amendment should have long been scrapped as not acceptable. This is another proof that these two parties are but one and they were ripping us off all the time and spending hardly any money on projects at home. Most of the funds were used to create a One World Order and many wars that we, the slaves, had to fight against our will. They kept this One World Order endeavor secret from us for all this time and still deny it because our opinion as slaves is not considered.

We, the people, accepted this situation for a hundred and fifty years without any comment other than from the Libertarians. The libertarian party tried to wake you up, but so far in vain. Just the fact that the governments acted in conspiracy and in absolute disadvantage to the interest of we, the people and against the people makes US government non-existent as it violated the intent and contract of the original constitutional contract. It simply does not exist anymore; and all state governments now are a reprobate governing enemies of we, the people. By the definition in Title 18 US criminal code US government, under control of the republocrats, is a bona-feda international, organized criminal syndicate. We, the people are lying, governmentally speaking, in utter chaos. Don't tell me the IRS/executive government is not in cahoots with the justice department and the republocratic congress.

We, the (supposedly) enslaved people, cannot allow a slave-owning government to be part of the United Nations, where our existence as free beings is not considered in any decisions of US government (and of the United Nations), as part of our government. It is therefore necessary to set the record straight. We are the reason that federal government is possible. We must re-institute liberty for all in America. Vote Libertarian, always! We must restore order by throwing off another reprobate, suppressive government like the British crown was before.

Problem is that as long as Americans cannot stop hungering for news and political propaganda, this nation will sink into the morass of unmitigated slavery for all and forever and forgotten by all. So, wise up! Quit watching TV, listening to news reports and deprive yourself of being part of the public media. If you cannot do that you will forever bind this nation in slavery. We are imprisoned into slavery through the mass-mind, which includes you! You are the nation's problem. And if you are not; then help us debrainwash your family, friends and strangers. We should do it for the liberty and happiness of our posterity. See, how our forefathers were indifferent to the liberty they enjoyed and as a consequence their posterity we, as a modern people, suffered severe slavery and did not even realize that we were suppressed slaves. Our government, on the sly, caused the civil war, the 1st and 2nd world wars, the Korean War, the Vietnam War and the long-lasting wars, terrorism and hostility with the Muslims in Asia and around the world, 9/11 and so much more harrowing hostile wars. All of this was without us being aware that our government is the center of the conspiracy to create and dominate a One World Order with nothing but slaves world-wide. America is the main One World Order designer and implementer. Is it not about time we present-day Americans wake up to this ongoing utter scandal? Vote Libertarian and damn the treasonous, horrible republocrats. We, the people are the crown in America and the governments are the subjects. Let's win back our crown. That is why it is important that the veto of the royal entity or the president must remain in place and the president or royal entity cannot be a member of the reigning parliament or congress --- this entity must remain elevated beyond the reach of any political party! It must reign unaligned and unmaligned with either party in order to see through the scheming going on in the legislative departments of government. By saying that the two major parties are in conspiracy against the people, I have revealed their guilt and also have given the libertarian party a contender they can be measured against in the news

and in the polls because the republicans now must assert together that they are not aligned together and thus give the libertarian party the chance to shatter the conspirators' deceit and bring them into the open as traitors.

Let me give you an example. Around the 10th of September 2020 in Hendersonville a police officer was shot in the face and died. The funeral was a couple of days later, but Friday the 18 there was a memorial service for the officers from all over the place to give honor to this dead officer. The problem was that that it took about all day and hundreds of police officers on motor bikes and cruisers drove through town and the suburbs. and from about 4 pm to 6:30 pm the streets were blocked off for 2 hours and people living for about a mile around the funeral home had no way of coming home from work, shopping, etc. They were derailed or were prevented from leaving their homes. This was not just a regular memorial; this was a propaganda stunt by the police forces and it was an infraction of the public domain for a private advantage. Such propaganda campaigns should not interfere with people's right to home and happiness. The city, county and state governments are extremely lax in controlling excessive public noise and indecency. It is a shame, because air is in the public domain and thus is one of governments' major public duties. For instance the yearly or once every 2 years state smog test should also include a strict noise pollution test in order to allow a car to be eligible for license renewal. Noise and indecency pollution should be handled in the same criminal logic as breaking and entering. It is bandits' attempted success in breaking and entering noise and indecency into someone else's private home domain which makes it so.
The below sign I placed on my car on November 7-2020, after the vote
This is a form of government forcing people from their homes or from getting to their homes. It should not happen; government employees are our servants not our masters. Such memorials must be held in utterly public places that do not bother life in general. Police officers accept the job of having a chance to be killed and they are well compensated for that. Funeral entourages on the roads can be a couple of miles long for certain government employees so it stalls everybody on the road for sometimes hours from doing their business. Entourages over a certain number of cars should to be illegal, even if it is for a US presidential entourage; after all he is just another servant. President Trump claims to be paying his own salary. This is illegal. He is not a king, he is a servant and as a servant he must accept his appointed salary, just like every body else or he goes to jail for breaking the law! Attending people can be told where and what time the funeral will be and can drive there on their own time so that business is not inconvenienced. Government cannot legislate to control people in their own capacities and in their own domain. It can only legislate in the capacities for which they have received license from the people which exclude the people themselves. Liberty, however, has its duties and the most important of these is to conduct oneself and those invited into their private domains so that others are in no way angered or disturbed by them. This is where every American believes it has license; but they do not, because by disturbing others through the air (like making excess noise) they trespass upon public property, because the air everywhere inside the US is the domain of the elected officials. This is not a private thing; breaking the law upon or through public domain must be controlled and punished by the elected or appointed officials because the air through which it travels (even in our homes) is the public domain.
Why we have a representative form of government
The problem with majestic authorities like kings, etc is that they intermarry with each other and thus a dozen or so countries are all related at the top and everyone among them wants to be the richest and most powerful so that intrigue and wars are always at the back of such communities. It is really, for example, like 12 kings owning everything and the rest is just cattle that exist at the mercy of the kings. Since all the common folks in a royal society belong to the king, the king can do with anybody what he wants. He considers everyone as slaves / subjects and he can force taxes / rents from everyone, simply because they are slaves. They cannot talk back so they surrender to the king, which is called "fealty". Modern dictators have exchanged kingship with ideologies that isolate the people into groups that cannot see that they are being manipulated into unsolvable disagreements that causes strife and slavery as we can now clearly see the republocrat politicians have done to us. There is peace at the top and us minions are fighting and funding their international goals -- not our domestic furtherance.

So, the United States (really George Washington) chose democratically appointed presidents and governors as rulers of society with houses of elected legislators in the lower and higher houses. This system of government is based on entirely free people; because first of all, slaves cannot be said to have the vote and because anyone of us can be a representative to any elected office. Our voting power is the reason that we are free, entirely. No president or a conspiracy of legislators can reduce the citizenry to slaves because they have been elected by these people government calls slaves. It is simply not possible.

We are inherently free because we are all equal; and I and you have the same status of liberty that the president has. No one rules over another in government. They say we are ruled by law. That is all good and well as long as the ruling class does not create a ground law that makes us all slaves. That is what happened in the US of A in 1865. It is utterly base that, of all people, Abraham Lincoln, who is supposedly the person responsible for freeing the slaves, consented to a conspiracy of legislators to enslave the entire nation of people through the 14th amendment, which set conditions to free the African slaves to which almost everyone agreed and to sneakily insert an utterly false phrase in the first sentence that all people were already subject to US government, a phrase which every American should have challenged and by force set straight again. However these reprobates elected officials kept the contents of the amendment hidden from the people causing this amendment after 35 years, mind you, to pass. The people responsible for writing the proposal were worse than traitors and liars. They are filth beneath the level of cultured society.

If we can get the entire world of nations to drop the noble classes from ruling and all nations to choose representatives from among the people to rule the realms, then there should absolutely be no reasons for subjection and war anymore. Presidents come and go much faster than kings and queens and no dynasties are struggling to stay in power. In the democratic form of government presidents and legislators were chosen from among the free people, but as soon as they start their official capacities they turn instantly to be subject to the constitution; and thus subject to the free people. In a republican form of government the people are always above government; and constitutional changes to the contrary by government are only seditious actions that really cannot enslave the people as it has done. If you, people, do not correct this then you deserve your slavery a 100%, It goes way beyond the importance of voting democrat or republican. Your vote, other than libertarian, would entirely be treason to your fellow people; AND NOT ONLY THAT, YOU ARE RESPONSIBLE IN ENSALVING OUR UNBORN POSTERITY AND THAT IS THE WORST CRIME OF ALL. SO SLAVES --- WAKE UP! These two popular parties are 100% guilty of enslaving us and keeping us enslaved. These two reprobate parties in government reversed the roles!! So both government and the constitution are now farces of agreement and execution!

The right definition of posterity is that when you die all the remaining Americans you leave behind and their offspring is your entire posterity. They are all the people you betray when you vote anything else than libertarian!
Forget the phony republocratic public debates -- vote libertarian and you have done the job liberty demands of you.

By writing and adopting a proposal that contains a phrase that would enslave the free people, we can be sure that a secret, new ruling class, is trying to take over for ever. This ruling class, which I have now identified to be the republocrats, a coalition of republicans and democrats who, over the entire span from proposal stage of the amendment to this present day, have been, uninterrupted, in power over the nation using the 14th, together with the shortly later also ratified, 16th amendment to reduce the American people to a nation of slaves. These two parties are the slime of the world and they should be hunted and killed from the top down. They utterly abused the trust to power the people have given them, with Lincoln abusing his power by allowing this atrocity to be brought up for vote.

A group, of by-the people-chosen temporary, elected rulers have no reason, whatsoever, to cause wars among the nations. The American people do not need a United Nations, who we all have observed has not stopped wars in the world but has increased to number of wars exponentially in the period it has been in power. It seems to me that there was a lot more peace and quiet in the colonial form of governments. This horror can only be ascribed to the sole, corrupt democratic system of political parties, the
republocrats
, and the by them appointed CIA, -- the true trouble-makers in the world.
Please, help spread the information. The main tenet of the constitution is to prevent government to enslave any private person in any way; -- remember that!! (Anybody experienced to put my writings into video speeches can do so and spread the discovered fraud).

We have that power

VICIOUS LIES IN THE PREAMBLE OF THE REPUBLICAN PLATFORM

Read the vicious lies in the preamble of the republican platform. I will add my notes where necessary:

"We believe America is exceptional because of our historic role -- first as refuge, then as defender, and now as exemplar of liberty for the whole world to see". Here is my comment:

The republicans are liars. First off; the 14th amendment says we are all slaves of federal government and the republican party was happy to keep it this way. The 14th amendment stole the constitution from the people and made it a document for government only. The 14th amendment was proposed and adopted by 2/3 of the states during, believe this, 35 years (an unacceptable long period of proposal time) before it was ratified. Then, about a decade later the 16th amendment was ratified, which took about 3.6 years of ratification process and just right after the vicious 14th was ratified. These two amendments are still there. The republican party never did a thing to liberate our nation from the slavery that these two amendments imposed on the people; but increased this slavery by deceiving us through deep conspiracy to be subject to a new form of government: The United Nations from which it never even tried to extricate the nation. The whole platform of the republicans is another deceit put before the people; AND NOBODY EVEN NOTICED!

I continue again with the preamble to the republican platform again:

"We , the republicans, believe in the constitution as our founding document". My comment.

Again the republicans are liars; they never tried to make the document one that secures our liberty again; but they gladly set the violated Constitution (which is not a constitution anymore than my toilet paper is) force illegal income taxes from the people, which tax (and the accompanying amendments) caused our rights and liberty to be severely violated by their bureaucracy. Once you have read this preamble with me, how could you ever again vote republican for any elected post. The rest of the republican platform, of course, is bull shit!

They call the constitution and inflexible document. How much more flexible can you make the constitution than proclaiming that a free people suddenly become slaves!!!?

Let's see what the 2020 Democratic platform tells us.

It says : reforming the TAX Code . . .

My comment:

The terrible, terrible IRS income tax. They will not abolish the 16th amendment, but will make some bull-shit changes to Title 25, the income tax code. They want you to believe that you must pay the tax and still have your liberty. No!! Income tax is slavery. I KNOW! Do not let them fool you; they own you as slaves. Demand your liberty and the annulment/abrogation of both the 14th and 16th amendments.

See my inflation-based government funding system: A NEW IRS-FREE GOVERNMENT FUNDING SYSTEM

I have read the Libertarian platform and it outshines republocrats in all ways. Do not vote for the democratic ticket!

This is how the first sentence of the 14th amendment reads: "All persons born or naturalized in the United States and subject to the Jurisdiction thereof . . ." This highlighted section is an utterly false, criminally fraudulent, statement.

It should read: "All people, who were part of and included in this original Constitution agreement, their descendents and those naturalized in the United States are unburdened and free United States citizens . . ."

What, really, has government done for us?

The problem with the present democracy and government is that it is supposed to promote peace, welfare and happiness. In our case it has never been true Democracy only caused world wars and many other foreign upheavals, hatred between the parties and the people and presently the chances of another civil war is very likely. The same misery is true for the Federal Reserve System; it is supposed to provide us with a regulated economy, but we get depressions and inflation made to schedule, and almost everybody suffers severe losses of their savings sand in many cases their homes. I cannot see that our elected official are really nothing but the biggest criminals we can find in the land. We are literally driven to start another civil war, by this utterly vicious regime -- and governments did it on bloody purpose; just so that they can have their One World Order, which will never do us people any good. They squirreled away our liberty, loaded us up with world wars and loaded us down with income tax using a world war and the 16th amendment, while I have a means to fu8nd government without anybody or firm ever having to pay a cent on forced taxes -- and created a huge national debt illegally. They have polarized the people to such an extend that they are willing to cut each others' throat. Our governments have always been against us -- people.

The problem is the people were never before subject to the jurisdiction of the United States; the United States is subject to the people and always was. They act, though, as if they are right! It is a most ambiguous statement but they want you to get the silent suggestion that you are subject to the federal government. They need us to believe that we are subject to federal government so they could introduce the 16th amendment / forcible taxation! It is the most brutal of frauds. The United States flag means less than nothing now! We are all slaves. It took over 35 years (from 1866 to 1901) to ratify the amendment with all the strenuous work of both the republican and the democratic parties to get the right amount of state legislatures to ratify the amendment. It took so long because the state legislators knew darn well that the object of the entire 14th amendment was to enslave the people. An open-ended proposal is like a guarantee to get what you want; it guaranteed over time and different time periods that another state might adopt the proposal. This could never happen were the previously adopted proposals nullified and a new vote for all states was to be taken. It is thus illegal in the common law to acquire the necessary votes in this manner. The life of a proposal is highly temporary, at the most one year, and that is it. Then the proposal dies and cannot ever be brought up again. We are here dealing with fraud, criminal injustice and right-out viciousness! The 16th amendment followed 12 years later. There is no doubt that enforced individual income tax is a form of severe slavery. We must stop this as soon as possible. Everything about our democracy is a hoax. There is another hidden tax we pay through inflation. Inflation is duly printed treasury script issued by government into the economy without any financial backing. There is nothing we can do about that. This could easily replace the forced income tax. This way nobody has to fill out idiot government tax forms and nobody goes to jail.

We, through the Special Grand Jury (see further down the page for understanding), must get rid of the republocrats forever and review all laws and amendments these treasoners have put into law since 1865.


There is no doubt that the established enforced individual income tax is a form of severe slavery. We must stop this as soon as possible. Everything about our democracy is a hoax. Let us return to the republic. US government has had its means of operational funding specified in the original constitution. So, any other form of government funding is unconstitutional and a rape of the free American people. Thus US government Bond issue programs are utterly illegal; and so is the federal income tax. The American people are inherently a totally free people and any government intervention, federal, or state, is a serious crime against we, the people. Before doing anything else politically, we must, as soon as possible, reestablish our liberty -- this means forget the republocrats who are 100% guilty of all our constitutional and fiscal problems and vote libertarian which party has, as yet, not betrayed we, the people. We must first address our federal government's crimes and then follow up with the state governments' crimes against we, the people. But below is a system to get started with abandoning the forced federal income tax to get rid of the offending 14th and 16th amendments.

Below is the letter I sent to the Libertarian party about my suggestion for governments funding through approved inflation:
I just discovered a tax system that relieves everybody, including the commercial businesses from having to deal with taxes. It is the most simple governments' funding system in the world and it has been known since times immemorial. It is called inflation.

You may copy and distribute this article below!

Inflation is another hidden tax we pay. Inflation is duly printed treasury script issued by government into the economy without any financial backing. It causes prices to go up. There is nothing we can do about that. Inflation could easily replace the income tax system forced on us through the (fraudulent) fictitious 14th and 16th amendments and state tax regulations. All Taxing regulations would simply disappear. The population-enslaving 16th amendment is then utterly unnecessary and so is the false phrase in the 14th amendment. This way nobody has to fill out the ridiculous government tax forms that cost the individual population and the commercial world now billions of hours; tens of billions of dollars.